Our next concert will be on Monday, May 25, 2015 at 3:00pm at the Piccolo Spoleto Festival


Photos from the April concert are now online!
Thanks to Andy Andrews and his wife Joanne for taking these.

The Columbia Community Concert Band is an all-volunteer, adult, nonprofit organization that has grown from 14 members at its inception in 1981 to its present size of over 80 musicians. The band presents an average of five concerts each season, which runs from September until June. We play a wide assortment of music; you can view our performance history and our repertoire history beginning with the 2005-2006 season.
Band members come from all walks of life, representing a full gamut of occupations. Though very few are professional musicians, the majority were members of their all-state bands in high school, and many performed in college or military bands. Our membership directory lists our members, their hometowns, and their occupations.
The band has performed for the South Carolina Music Educators Association three times and has also performed for national conventions of the American School Band Directors Association and the Association of Concert Bands. The band also performs yearly at the Piccolo Spoleto Festival in Charleston, SC.
The Columbia Community Concert Band is a member of the Cultural Council of Richland and Lexington Counties and the Association of Concert Bands, Inc. and is partially funded through grants from the Cultural Council and the South Carolina Arts Commission. The band is grateful to Lexington County School District Two, Venus Holland, Superintendent, Airport High School principal Dixon Brooks, Airport High School band director Michael Rooker, and Airport High School choral director Linda Goodwin for the use of their facilities and equipment. Thanks also to Jeff Thompson and South Carolina Bandlink for providing website hosting. Special thanks to all who volunteer their time, talents, and resources to make the band possible.
Featured Member
Gayle Sims, Columbia, Clarinet
Gayle grew up in Union, SC and lived there until graduating from Union High School; she began playing the clarinet in the 7th grade. After high school she attended Furman University for two years where she played in the marching, concert and pep bands. She then transferred to USC, where she continued playing in the marching, concert, and pep bands. She did graduate work at Georgia State University, and after graduating she did not touch her clarinet for about 15 years, but pulled it out (the same one she used during school and still plays) when she read about the CCCB in the newspaper with Bill Ackerman conducting. (She was in the band at USC with Bill.) She has been playing with the band since that first year and today plays with the Wild Irish Band, the summer band, her church orchestra (Cornerstone Presbyterian Church) and several other churches during holidays.
She taught elementary school for 34 years, most of those in the Irmo area. She retired in 2000 and since then has worked part time at the Columbia Skin Clinic as a transcriptionist and at USC as a supervisor for MAT interns in elementary education. She loves to travel and tries to go as much as she can maneuver around her work schedule. She also loves gardening and reading. She has two children, Jay and Lee, who are both married, and she has two granddaughters, 4 and 1 (Jay) and one on the way (Lee) in January.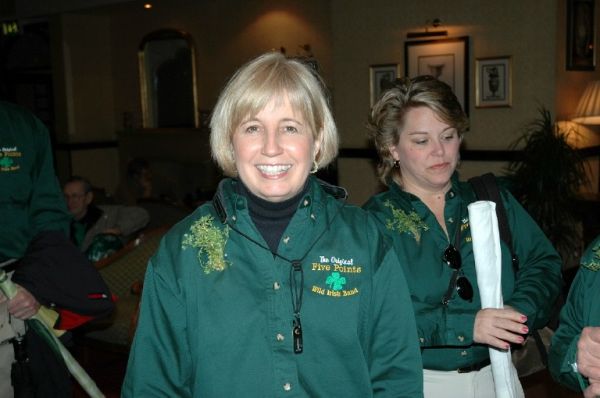 View Former Featured Members